Welcome to the AES Blog
Australasia has some excellent evaluators. More than that, we have an evaluation community full of ideas and a willingness to share. The AES has long provided a place for us to come together, at regional events and the annual conference, to develop our community together. Now we're taking it online! The new AES blog will be a space for AES members – both new and experienced – to share their perspectives, reflecting on their theory... If you have an idea, please contact us on
blog@aes.asn.au
. Please also view our
blog guidelines
.
In conversation with AES Fellow Amohia Boulton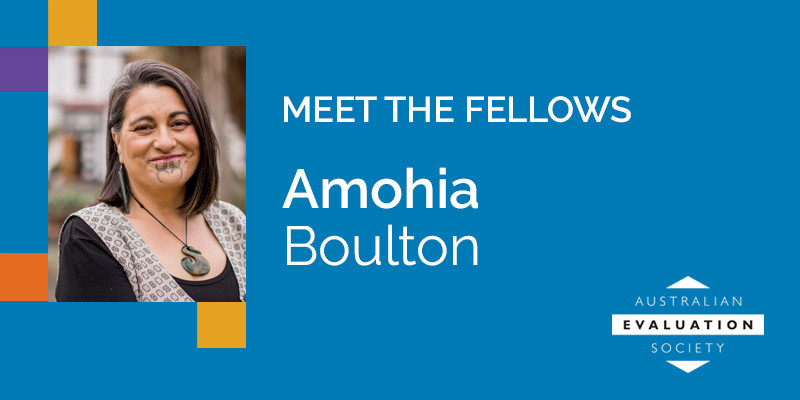 by Anthea Rutter
Members who have made a long-term and wide-ranging contribution to the AES and the field of evaluation are recognised through a special category of membership called 'Fellow of the AES'.
Amohia Boulton was made a Fellow in 2022, having been in and contributing to the evaluation profession since the late 1990s.

Amohia is currently a Director at Whakauae Research Services in Whanganui New Zealand. It is the only iwi-owned (tribally owned) health research centre in the country. She has been a been a member since 2012 and has also been a Board Member of the AES.
---
Tell me what brought you into the field of evaluation?
I was working in public policy and was told that I should do a masters, and that my organisation would support me to study. So I did it! I did a Masters in Applied Social Research, and a course with Jenny Neale (Jenny was an AES Fellow who sadly passed away several years ago). Jenny became a great mentor.
In terms of your evaluation expertise what do you regard as your main areas of interest?
For me it is definitely kaupapa Māori evaluation: undertaking evaluation from a Māori lens or worldview. For me it's about working out how we use our skills as evaluators to support our Māori community to be all that is Māori.
Looking back over your career, what have been the major challenges to your practice?
One of the main challenges has been the tension with the commissioners of evaluation. As kaupapa Māori evaluators we know how to support community, but the commissioners of evaluation will tell us a particular methodology to use and how long the evaluation will take. These methods and timeframes may not necessarily take into consideration the reality of Māori communities. We need time to build trust, and the values of the commissioners often don't match the values of our communities. For example, we conducted a national evaluation which involved the majority of Māori evaluators in NZ. We wrote up a huge piece about the communities and the commissioners were not interested in the contextual side – but we supplied it anyway!

So, this is always a challenge, how you balance what the community want with the commissioner's demands – and we constantly have to negotiate this space. The difficulty for us is that we are part of the community, and our relationships are lifelong. I am fortunate at the moment to be working with a team of evaluators in Australia and Canada looking at this very issue – the process of commissioning evaluation for/in/with indigenous communities.
What have been the highlights in your evaluation career?
One of the highlights for me is working with community and being able to make their voices real and present for the funders and commissioners. Often evaluations of local level community initiatives are not well-funded, but if you can demonstrate the worth of an initiative, and then get long-term sustainable funding for that initiative, then that is a fantastic outcome for our people.
What have been the major influence(s) which have helped to define your evaluation practice?
People like Nan Wehipeihana, Fiona Cram, Katarina Pipi, those who have been around a long time. Also, Leonie Pihama, a kaupapa Māori researcher in NZ – she talks about research and evaluation being highly political. Not forgetting the people I work with, who strive for excellence, and other colleagues with whom I can bounce ideas around. Jenny was a good mentor, as she had often tackled the same problems.
How has the field of evaluation changed during your career?
Now in New Zealand we don't have to justify what kaupapa Māori means – everyone understands it. It literally means "in a Māori way". So that's been a huge movement over the years. We now put Māori knowledge and expertise front and centre. Years ago we had to justify it, but nowadays we see that more and more funders are requiring that kaupapa Māori view. It's great but it puts pressure on us, because we don't have enough kaupapa Māori evaluators and we don't have the courses out there to train them.

When I did Jenny's course, we had few writings from Māori researchers, but now the wealth of indigenous evaluation literature that is available is very enriching – writing and scholarship from a community perspective too, not just academics. There is no longer an academic career path here in our universities. But there is a huge demand for evaluation and research – driven by the community. We are having to turn people down (for work)– and we certainly need to address the demand side for evaluators.
What are the main skills or competencies that evaluators need to have or develop to keep pace with emerging trends in evaluation?
Understanding community is key. For me as a kaupapa Māori evaluator, if you don't understand that community and you have not gained their trust, then your evaluation will not succeed in terms of demonstrating the worth of the program. So, it's important to understand and navigate the community, and to keep everyone safe in the relationships.
What do you see as the main social issues / problems that evaluators ought to be thinking about and seeking to resolve in the next decade?
I would have to say inequity and the widening inequity gap. This makes it hard to come together as a community, and it creates a lack of understanding. In the last little while, the level of inflation has increased and coupled with the growing disenfranchisement, has exacerbated the situation. We can see the effects of inequity on Māori and on Pacific communities in our country. In our workplace we are committed to transforming that reality. I think the field of evaluation, the skills, the tools we employ, provides one means to effect the transformation we as Māori are wanting to lead.
Has your involvement in the AES been beneficial to you, and in what ways?
It has been totally beneficial. I was involved in the development of the first Reconciliation Action Plan and leading the consultation process which allowed us to become the Australian Evaluation Society. But it is always about the people you meet on the way. People like David Roberts, Liz Smith, Duncan Rintoul, Jess Dart, Lyn Alderman. I was exposed to different ways of thinking, and different methodologies, for example Most Significant Change from Jess Dart. I feel that most evaluators want a better world, so how can we use our tools to make it better.
How can the AES best position itself to still be relevant in the future?
Incorporate those diverse communities which we do not see represented at the AES. More people with disability, from migrant backgrounds and Asian cultures etc. We need to make the AES a society that people see value in, so we need to think of how to make it a society which is accessible for everyone, and is reflective of the diversity of our broader society.
What advice would you give to a young emerging evaluator?
Find someone whose work you admire and approach them, start a conversation and don't be afraid. I feel that evaluators are approachable. Get involved in the Society – don't sit on the sidelines, make the change you want to see! There are always people to help you, and I feel that it is up to us – the more experienced evaluators – to help the people emerging into the profession.
------------------------
Anthea Rutter
Anthea is Research Fellow, Centre for Program Evaluation.