VIC EOY Networking: Exploring ideas for aes24 Melbourne | Naarm (In person 22 November 2023)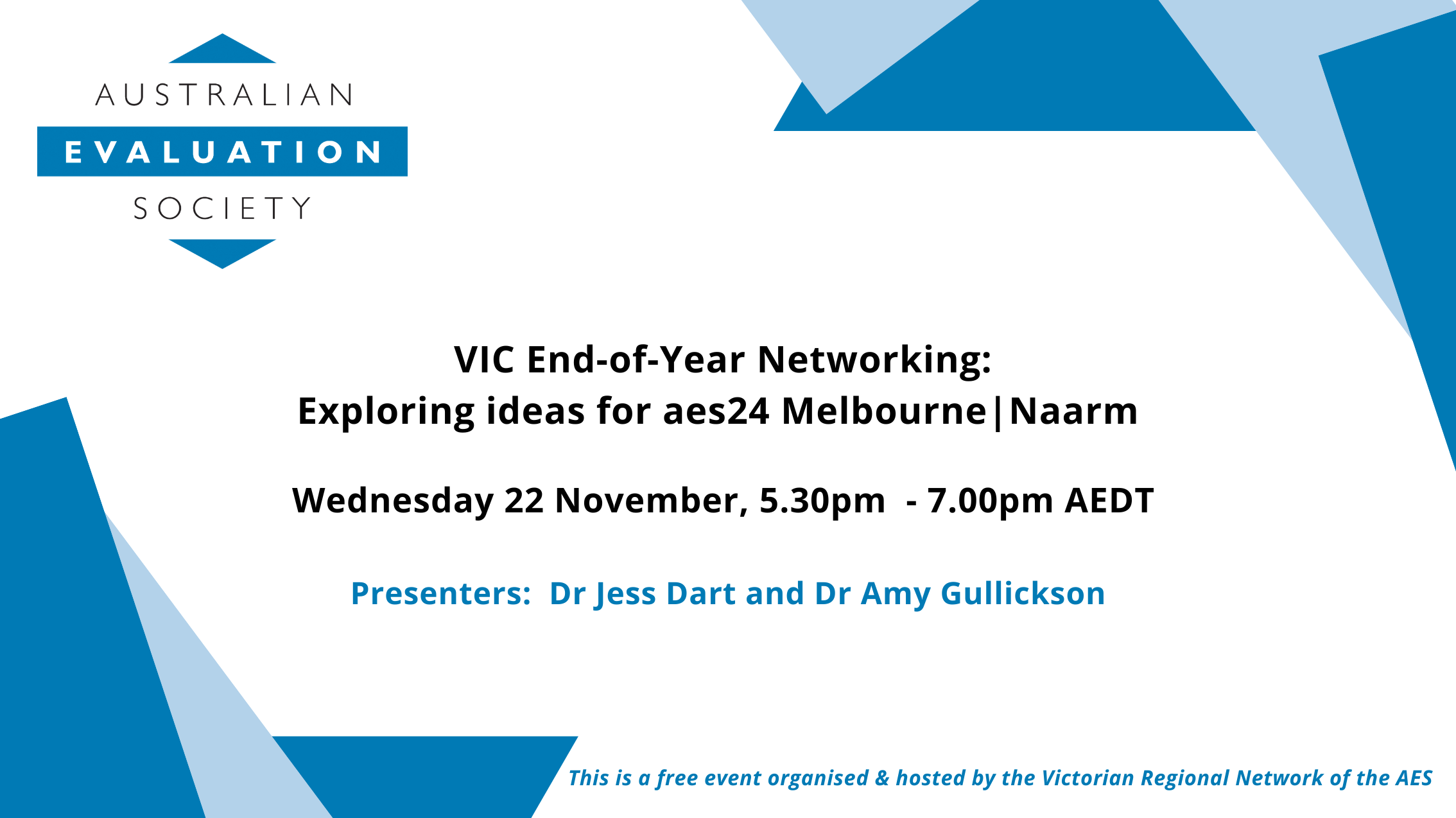 Date and time: Wednesday 21 November, 5.30pm - 7.00pm AEDT
Topic: Exploring ideas for aes24 Melbourne | Naarm
Location: United Event Space, 425 Smith Street Fitzroy VIC 3065
Presenters: Dr Jess Dart and Dr Amy Gullickson, co-convenors aes24
Register online by: Tuesday 20 November 2023, unless sold out prior
Event Description:
Victorian members and friends of the AES are invited to an in-person networking event to mark the end of another year. The aes24 Melbourne International Evaluation Conference Co-convenors, Amy Gullickson and Jess Dart, will present their vision for the conference and facilitate a short interactive Q&A on the conference. This will be followed by nibbles and drinks to celebrate another big year in the evaluation world.
As spaces for this event are limited we ask that you RSVP only if you can commit to attending. A reminder will be sent out the week prior. If you are unable to attend we ask that you contact the This email address is being protected from spambots. You need JavaScript enabled to view it. to let them know so another member has the opportunity to attend.

This free event has been organised by the AES Victoria Regional Network. Our seminar series provides an opportunity for you to meet with AES members and others in the evaluation community and to share and learn from the experiences of fellow evaluators.
About the Presenters
Dr Jess Dart
Chief Evaluator and Founder of Clear Horizon Consulting, Jess navigates complexity with comfort and helps her clients to clarify their desired outcomes and how to get there. Jess has over 25 years' experience in evaluating and designing social change initiatives in Australia and overseas. She is passionate about developing real-world evaluation and strategy for social justice and sustainability. In particular, she works with systems change interventions, large-scale strategy and social innovation.

In 2018, Jess received the Australian Evaluation Society's Outstanding Contribution to Evaluation Award. Among her many achievements, she co-authored the Most Significant Change (MSC) guide alongside Dr Rick Davies, which is now translated into 12 different languages. More recently, she invented Collaborative Outcomes Reporting (COR), a collaborative form of impact evaluation. Jess is an active mum with two teenage boys. In a quiet moment, she loves reading science fiction and long-distance running.

Dr Amy Gullickson
Associate Professor Amy Gullickson is an academic at the University of Melbourne Assessment and Evaluation Research Centre, which delivers evaluation and research services, thought leadership, and qualifications. She is also a co-founder and current chair of the International Society for Evaluation Education
https://www.isee-evaled.org/, a long-time member of the AES Pathways Committee (and its predecessors), and a key architect for the University of Melbourne's fully online, multi-disciplinary, Master of Evaluation program https://study.unimelb.edu.au/find/courses/graduate/master-of-evaluation/

Her teaching and research are focused on creating clarity about what evaluation is and what good evaluation looks like: i.e., credible, systematic, and useful determinations of merit, worth or significance through the application of defensible criteria and standards to demonstrably relevant empirical facts. This means evaluation must surface and deal with values that underpin what good looks like, employ robust research to understand performance, and offer clear and transparent reasoning to arrive at judgements about how good that performance is. Following on from that, she is studying, thinking about, and experimenting with what people and organisations need to know and be able to do to deliver good evaluation, and what strategies and leverage points will help them learn how to do good evaluation. Amy does all that because she's pretty sure evaluation is essential if we're going to save the world.
Event Information
| | |
| --- | --- |
| Event Date | 22 Nov 2023 5:30pm |
| Event End Date | 22 Nov 2023 7:00pm |
| Cut Off Date | 21 Nov 2023 4:00pm |
| Location | United Event Space |
| Categories | Victoria |