Workshop: Performance measurement: principles and practices (Online 22 & 29 February 2024)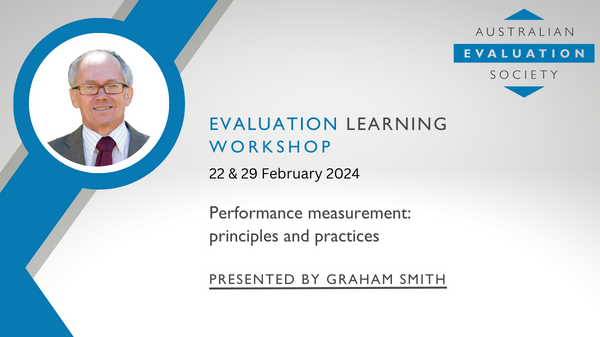 Workshop: Performance measurement: principles and practices
Date and time: Thursday 22 February and Thursday 29 February, 10.00am to 1.00pm AEDT (registration from 9.15am) Registrants are to attend both sessions. (full day workshop - 2 sessions)
Venue: Via Zoom. Details will be emailed to registrants just prior to the workshop start time
Facilitator: Graham Smith
Register online by: 21 February 2023. Spaces limited to 25 participants
Fees (GST inclusive): Members $295, Organisational member staff $415, Non-members $485, Student member $140, Student non-member $226. Students must send proof of their full-time student status to This email address is being protected from spambots. You need JavaScript enabled to view it.
Workshop Overview
The purpose of the workshop is to increase participants' theoretical and practical knowledge of performance measurement so as to enable them to improve their ability to measure key aspects of a program, including outputs, outcomes, sustainability and impact.
Workshop Content
The workshop will address the theoretical foundations of measurement, the various purposes to which measurement can be put, the characteristics of sound performance measures and how measures vary depending on what they are trying to measure (e.g. sustainability compared with impact). Next, we will consider practical issues in measurement, including data availability, the potential for organisational resistance and systems for collecting and reporting results. Finally, the workshop will address examples of how to design new or improved performance measures.
Workshop Objectives
Following the workshop, participants will be able to:
Identify the purposes of performance measurement

Define the characteristics of a sound performance measure

Determine differences in performance measures used at different stages of a project.

Be able to assess the quality of current performance measures and be able to propose improved ones.

Initiate processes to collect and report against these performance measures
PL competencies
This workshop aligns with competencies in the AES Evaluator's Professional Learning Competency Framework. The identified domains are:
• Domain 2 – Evaluation theory
• Domain 3 – Culture, stakeholders and context
• Domain 4 – Research methods and systematic inquiry
The primary domain is Domain 4, Research Methods and Systematic Inquiry, especially with respect to 'collecting valid and reliable data on which evaluative judgements can be based.' All other domains are at least touched on, in particular Domain 2 Evaluation Theory, in that the workshop will cover theoretical bases on measurement, and Domain 3 Culture, Stakeholders and Context, in that we will address negotiation with stakeholders to improve performance measurement, taking into account the organisational context, including culture.
Who should attend?
Those with some knowledge of measurement, and ideally currently tasked with a measurement role, will benefit most from the workshop, i.e. an intermediate level. However, those who are commencing with a low knowledge base would also benefit
Workshop start times:
About the facilitator
Graham Smith has wide experience in developing and reviewing performance measures, primarily in a government organisation context. This includes several reviews of performance measurement for the ACT Audit Office, the ANAO and the Fair Work Commission, and development of measures for the Department of Environment and the Australian Communication and Media Authority and to support the ACT Disability Justice Evaluation Framework. In 2019, he completed a Ph.D. that focuses on performance measurement in government, and has continued to write and research in this area.
Event Information
| | |
| --- | --- |
| Event Date | 22 Feb 2024 10:00am |
| Event End Date | 29 Feb 2024 1:00am |
| Cut Off Date | 21 Feb 2024 4:00pm |
| Location | Zoom |
| Categories | Online Workshops |