Workshop: Making it stick 1 – Crafting an evaluation report for impact and use (Online 7 & 8 February 2024)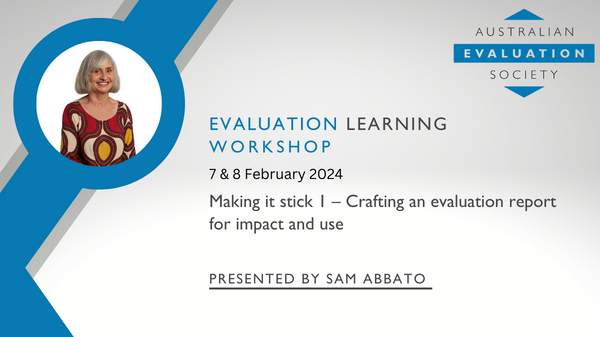 Workshop: Making it stick 1 – Crafting an evaluation report for impact and use
Date and time: Wednesday 7 February and Thursday 8 February 2024, 9.30am to 1.00pm AEDT (registration from 9.15am). Registrants are to attend both sessions. (full day workshop - 2 sessions)
Venue: Via Zoom. Details will be emailed to registrants just prior to the workshop start time
Facilitator: Dr. Samantha Abbato
Register online by: Tuesday 6 February, unless sold out. Spaces limited to 25 participants
Fees (GST inclusive): Members $295, Organisational member staff $415, Non-members $485, Student member $140, Student non-member $226. Students must send proof of their full-time student status to This email address is being protected from spambots. You need JavaScript enabled to view it.
Workshop Overview
Communicating evaluation through effective reporting is critical to the field of evaluation and those who commission, plan and do evaluations. In the context of continued substantial underuse and misuse and increasing "over-use" of evaluation findings (Patton 2015), effective reporting is now more critical than ever. This workshop aims to provide participants with the knowledge, skills, and tools they need for effective evaluation reporting and communication. Simple-to-use, effective, and innovative reporting techniques from various disciplines will be introduced. Participants can apply the learned knowledge to real-life examples in small groups throughout the workshop. Participants will receive fillable templates and checklists to use the new skills and tools in their work.
The facilitator has considerable experience crafting evaluation reports across several sectors and using utilisation-focused strategies. Sam has facilitated the popular face-to-face version of this workshop several times at AES conferences, AES regional events, and internationally since 2017. The workshop's content and focus on report improvement lends itself to online delivery, offering participants multiple opportunities to directly apply new skills and techniques to their work between the Zoom sessions and to share reflections with other participants. This workshop has been successfully delivered online for AES several times since 2020.
Workshop Content
Participants will learn how to maximise report reach, engagement, and use by applying strategies and tools based on current communication principles and theory. Making it Stick 1 will introduce innovative multidisciplinary concepts, techniques, and tools from psychology, business, marketing, graphic and visual communication. Four main areas will be covered.
1. Communication and utilisation-focused principles: Start with an understanding of the difference between documenting and reporting and the basic principles and models of communications and planning for evaluation use. We introduce tools to ensure reports are tailored to priority stakeholders and a 'Key Message' template to focus reporting and decrease report clutter.
2. Strategies to make the report stick: Introducing a range of ways to structure a report for increased communicability allows you to try message-based approaches in real-life examples. We acquaint you with the Rule of Three and how to use a fillable template to focus information for more impactful reporting.
3. Report content and structure: We discuss an evaluation report's essential and optional contents, including sections for increasing engagement and use for priority stakeholders, such as the report dissemination and sharing plan. Think outside the typical report structure to better engage with six strategies, including 'pictures and stories' and the 'skeletal' report.
4. Getting the report noticed: Be compelling by applying basic design principles using six principles and an unforgettable acronym. We provide a design checklist for you to immediately apply design principles to your reports after trying it in a group activity.
The workshop will be interactive and involve sharing experiences and hands-on activities. Case studies from the presenter's expertise in the areas of health, communities, Aboriginal and Torres Strait Islander and culturally and linguistically diverse settings will be discussed. Participants will be given opportunities to apply new skills to their work.
Workshop Outcomes
Workshop learning outcomes include:
- Knowledge of communication and use-focused principles for impactful reporting;
- The ability to apply tools and templates to structure, tailor and communicate evaluation findings to priority stakeholders;
- Knowledge of the critical components of evaluation reports and ways of effectively structuring them;
- The ability to produce a report that is "sticky" and memorable using design principles and a checklist;
PL competencies
This workshop aligns with competencies in the AES Evaluator's Professional Learning Competency Framework. The identified domains are
Domain 1 – Evaluative attitude and professional practice;

Domain 3 – Culture, stakeholders and context;

Domain 5 – Project management;

Domain 6 – Interpersonal skills.
Who should attend?
This workshop is designed for professionals who commission, write or use evaluation reports. It is ideal for beginners and those new to evaluation. It will also benefit those at an intermediate level who want to produce more impactful reports.
Workshop start times
About the facilitator
Dr. Samantha Abbato has completed over 100 evaluation and research reports and papers for various government, non-government organisations and community stakeholders. She has published numerous book chapters and peer-reviewed journal articles and has worked as a freelance journalist for several years. She received the 2015 AES Evaluation Publication Award (Caulley Tulloch Award).
With a passion for communication and maximising evaluation use and an extensive understanding of the evaluation commissioner perspective through her work on Visual Insights organisational capacity building, Sam can offer a wealth of case studies of the good, the bad and the ugly of evaluation reporting.
Event Information
| | |
| --- | --- |
| Event Date | 07 Feb 2024 9:30am |
| Event End Date | 08 Feb 2024 1:00pm |
| Cut Off Date | 06 Feb 2024 5:00pm |
| Location | Zoom |
| Categories | Online Workshops |