Workshop: Introduction to Cost-Benefit Analysis for Evaluators (Online 5 & 12 March 2024)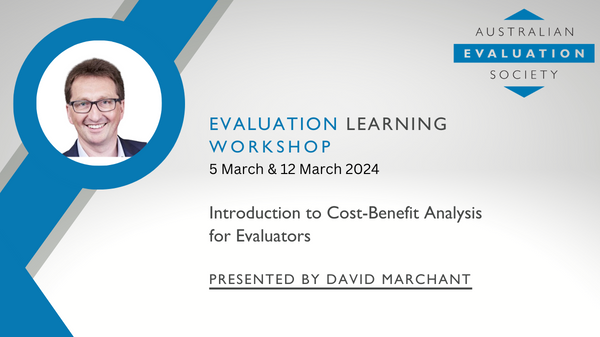 Workshop: Introduction to Cost-Benefit Analysis for Evaluators
Date and time: Tuesday 5 March and Tuesday 12 March 2024, 10.00am to 1.30pm AEDT (registration from 9.45am) Registrants are to attend both sessions. (full day workshop - 2 sessions)
Venue: Via Zoom. Details will be emailed to registrants just prior to the workshop start time
Facilitator: David Marchant
Register online by: 4 March 2024. Spaces limited to 25 participants
Fees (GST inclusive): Members $295, Organisational member staff $415, Non-members $485, Student member $140, Student non-member $226. Students must send proof of their full-time student status to This email address is being protected from spambots. You need JavaScript enabled to view it.
Purpose of Workshop
Cost-benefit analysis (CBA) is an appraisal and economic evaluation technique that considers the economic, social, and environmental impacts of different projects, programs, and policies, in quantifiable and monetary terms.
Widely used as an ex-ante (forward-looking) technique for appraising options and informing social decision-making, CBA is becoming increasingly important in ex-post (after the event) economic evaluation.
Across state and territory governments, CBA is the preferred method of economic assessment.
Workshop Content
This interactive and practical workshop, which has been designed specifically for evaluators (and assumes no prior knowledge of cost-benefit analysis nor economics) will provide evaluators with an understanding of CBA, explain how CBA can and should be used in evaluation, provide practical guidance for undertaking a CBA and interpreting a CBA, and build personal confidence around CBA.
In addition to the two half-day workshops, optional 'group office hours' will be offered for those participants wanting to engage more deeply with the program or ask any questions.
Workshop Outcomes
Learning outcomes will include increased understanding of:
The role of CBA in evaluation

When and why an evaluator would use CBA

How CBA compares to other types of analysis

Key concepts in CBA

How to undertake a CBA

Practical issues and challenges associated with undertaking a CBA

How to review, interpret and communicate results of a CBA

Where to find resources for CBA
PL competencies
This workshop aligns with competencies in the AES Evaluator's Professional Learning Competency Framework. The identified domains are:
Domain 1 – Evaluative attitude and professional practice

Domain 2 – Evaluation theory

Domain 4 – Research methods and systematic inquiry

Domain 7 – Evaluation activities
Who should attend?
Evaluators who want to develop their understanding of CBA and evaluators who may need to commission, undertake, or review/interpret a CBA in the future.
Workshop start times
VIC, NSW, ACT, TAS: 10.00am

QLD: 9.00am

SA: 9.30am

NT: 8.30am

WA: 7.00am

New Zealand: 12.00pm
For other time zones please go to https://www.timeanddate.com/worldclock/converter.html
About the facilitator
David Marchant is an accredited facilitator and the Managing Director of Inform Economics (www.informeconomics.com), specialist practitioners in the development and preparation of cost-benefit analyses.
Over recent years, Inform Economics have developed many cost-benefit analyses across a wide range of sectors including agriculture, disability, education and training, environment, fire, floods and emergency management, health, government services, infrastructure, responsible gambling, social housing, workplace safety, tourism, and events.
Event Information
| | |
| --- | --- |
| Event Date | 05 Mar 2024 10:00am |
| Event End Date | 12 Mar 2024 1:30pm |
| Cut Off Date | 04 Mar 2024 4:00pm |
| Location | Zoom |
| Categories | Online Workshops |