Workshop: Evaluation on a shoestring (Online 6 & 13 March 2024)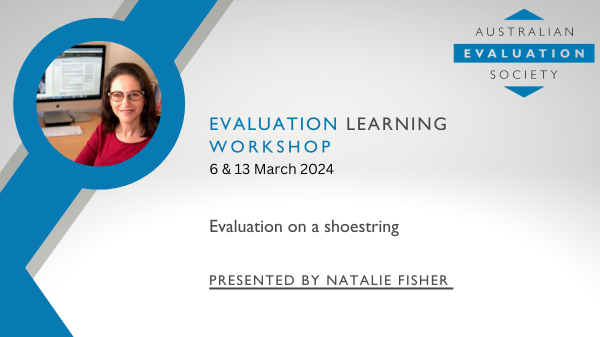 Workshop: Evaluation on a Shoestring
Date and time: Wednesday 6 March and Wednesday 13 March, 10.30am to 12.00pm AEDT (registration from 9.45am). Half day workshop - 2 sessions
Venue: Via Zoom. Details will be emailed to registrants just prior to the workshop start time
Facilitator: Natalie Fisher
Register online by: Tuesday 5 March 2024, unless sold out prior. Spaces limited to 25 participants
Fees (GST inclusive): Members $185.00, AES Organisational member staff $310.00, Non-members $350.00, Student member $110.00*, Student non-member $160.00* * Students must send proof of their full-time student status to This email address is being protected from spambots. You need JavaScript enabled to view it.
Workshop Overview
Evaluation budgets are often tight in the arts, cultural, and not-for-profit sectors. So, if you work in those sectors, how can you possibly conduct important evaluations?
It is possible to commission and conduct a useful and robust evaluation on a modest budget without compromising its validity or reliability. A shoestring approach to evaluation is about using budgets and resources carefully and looking for areas in which savings can be made. It also has the added benefit of forcing you to be really clear about your priorities, enabling you to work more efficiently. This is good evaluation practice even under normal circumstances.
Workshop Content
In this workshop we will work through what aspects of the evaluation process are non negotiable, and where savings can be made in challenging financial times.
You will learn:
Simple, practical steps to conducting a straightforward evaluation on a budget;
What aspects of the evaluation process should not be compromised;
How to collect data on a budget without compromising quality;
How to work with an external evaluator in the most cost-efficient way;
The pitfalls to avoid when trying to save money on evaluation projects.
PL competencies
This workshop aligns with competencies in the AES Evaluator's Professional Learning Competency Framework. The identified domains are:
Domain 3 – Culture, stakeholders and context

Domain 4 – Research methods and systematic inquiry

Domain 5 – Project management

Domain 6 – Interpersonal skills

Domain 7 – Evaluation Activities
Who should attend?
Individuals who work in evaluation within sectors particularly hit during hard financial times, including the human services, not-for-profit, arts, regional arts and cultural sectors.
Workshop start times
VIC, NSW, ACT, TAS: 10.30am

QLD: 9.30am

SA: 10.00am

NT: 9.00am

WA: 7.30am

New Zealand: 12.30pm
For other time zones please go to https://www.timeanddate.com/worldclock/converter.html
About the facilitator
Natalie Fisher is an experienced evaluation consultant with close to 20 years of experience conducting evaluation projects in the arts, cultural and not-for-profit sectors. She formed NSF Consulting in 2004, which provides evaluation services for arts, government and social service organisations.
In 2017 she attained a Master of Evaluation from the University of Melbourne, graduating with First Class Honours.
In recent years, Natalie has worked with clients including St Vincent De Paul Society, Dementia Australia, Create NSW, Regional Arts Victoria, Blue Shield Australia and Regional Futures, adopting efficient and lean evaluation methods.
Natalie has also chaired and presented at regional arts and evaluation conferences around Australia.
Event Information
| | |
| --- | --- |
| Event Date | 06 Mar 2024 10:30am |
| Event End Date | 13 Mar 2024 12:00pm |
| Cut Off Date | 05 Mar 2024 4:00pm |
| Location | Zoom |
| Categories | Online Workshops |