NSW Interactive session: International development evaluation – who owns it and why? (online 30 March 2023)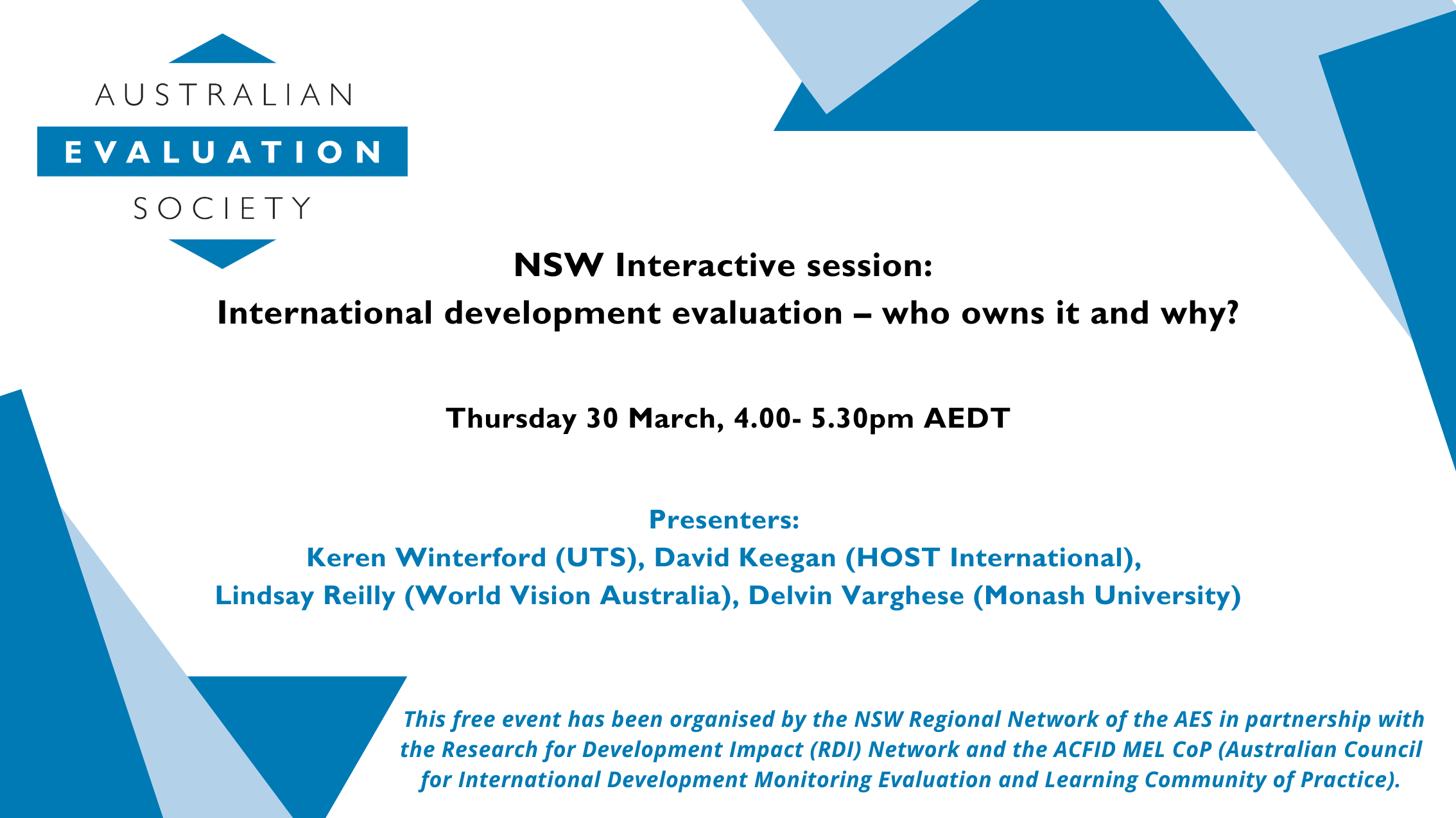 Date and time: Thursday 30 March, 4.00pm - 5.30pm AEDT
Topic: International development evaluation – who owns it and why?
Location: online via zoom, details will be shared just prior to the event.
Presenters: Keren Winterford, David Keegan, Lindsay Reilly, Delvin Varghese
Register online by: 12pm, 29 March 2023.
Event Description:
International development with its focus on eliminating poverty, social injustice and inequalities has always been at the forefront of employing participatory processes which engage with end-users of evaluation in the process and evaluation and learning. This way of working is increasingly relevant with current concerns for localisation (of development) and decolonising methodologies and mindsets within the sector.

This session explores current debates on localisation and decolonising methodologies and mindsets and provides insights into practical applications for evaluation drawing on experience from the Asia and Pacific regions. Speakers highlight the realities of evaluation on a 'shoe-string' which in turn prioritise local ownership and leadership of evaluation and learning. Connecting evaluation to a broader learning cycle linked to design, monitoring and learning also strengthens local ownership and use of relevant programming information.

In this session our speakers will introduce core aspects of shoe-string evaluation, localising and decolonising evaluation theory and practice and share examples of this in practice. The presentations seeks to generate discussion for attendees with time available for online small group conversations to share insights and experience.

Whilst focused on international development evaluation, the session is relevant to those engaged in community development, social programming and a strong interest in participatory processes of evaluation.

This free event has been organised by the NSW Regional Network of the AES in partnership with the Research for Development Impact (RDI) Network and the ACFID MEL CoP (Australian Council for International Development Monitoring Evaluation and Learning Community of Practice). Our seminar series provides an opportunity for you to meet with AES members and others in the evaluation community and to share and learn from the experiences of fellow evaluators.
Please ensure you have access to your email address to receive the zoom details. Please also check your email address is correct on your registration form before submitting.
This session will added to our YouTube channel approximately 4 weeks after it's recorded. Please subscribe to ensure you are notified when a new video is added.
About the Presenters
Dr Winterford has more than 20 years' work experience working in the international development sector, in multiple capacities with Managing Contractors, NGOs, as a private consultant, and more recently in development research. She currently provides evaluation, research and consultancy services for numerous government and non-government agencies in the development sector. Keren is a Research Director at the Institute for Sustainable Futures, University of Technology Sydney.

David Keegan is currently the CEO and founder of HOST International, an organisation working to facilitate social and economic inclusion of refugees throughout the Asia Pacific region. He is also currently the Chair of the Settlement Council of Australia (SCOA) Working Group on Monitoring, Evaluation and Data Capability working on implementing the Road to Belonging Strategy, a collective strategy for Australian Settlement Services.

Lindsay Reilly is a philanthropy manager and researcher with over a decade of experience in evaluation, strategic consulting, donor collaboratives, and program design and management (in both development and humanitarian contexts). Lindsay serves as a trusted researcher to foundations, universities, faith-based organisations, and non-profits globally. Lindsay is working at World Vision Australia as the Manager of the Impact Reporting and Strategy team.

Delvin Varghese is a research fellow at the Department of Human-Centred Computing at Monash University. Often relying on co-design and participatory methods, Delvin works with government bodies and nonprofits both in Australia and overseas, to design more equitable digital processes for community development. International collaborations include work with Oxfam, Caritas Nepal, and Red Cross societies (e.g. Indonesia, Namibia, Egypt, Honduras etc.). He has conducted fieldwork and worked on projects in countries in Asia, Africa, South America, Europe and Australia.
Session start times
VIC, NSW, ACT, TAS: 4.00pm
QLD: 3.00pm
SA: 3.30pm
NT: 2:30pm
WA: 1.00pm
New Zealand: 6.00pm
For other time zones please go to https://www.timeanddate.com/worldclock/converter.html
Event Information
| | |
| --- | --- |
| Event Date | 30 Mar 2023 4:00pm |
| Event End Date | 30 Mar 2023 5:30pm |
| Cut Off Date | 29 Mar 2023 12:00pm |
| Location | Zoom |
| Categories | New South Wales |