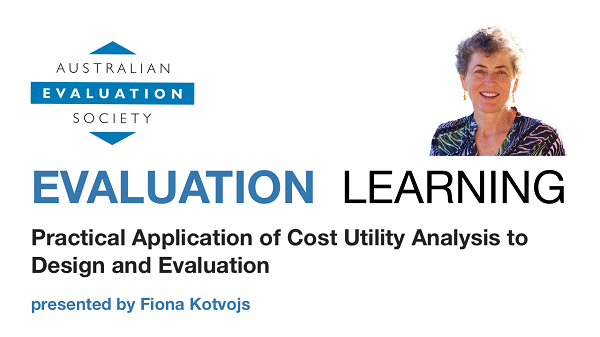 Date and time: Friday 15th October 2021, 10.00am to 1.00pm AEDT (registration from 9.45am). Half day workshop - 1 session.
Venue: Via Zoom. Details will be emailed to registrants just prior to the workshop start time
Facilitator: Dr Fiona Kotvojs
Register online by: 13 October 2021. Spaces limited to 25 participants
Fees (GST inclusive): Members $165, Non-members $315, Student member $95*, Student non-member $140*
* Students must send proof of their full-time student status to
Workshop Overview
In both design and evaluation, there is a need to be able to compare which investment provides the better value for money and to determine some measure of return on investment. This is critical to assess where donors should invest funds, how investments can be more efficient and whether the investment was a 'good' investment. Often the investment has the same expected outcomes but achieved through different routes. In other cases, the alternatives have different expected or actual outcomes. Many approaches to measuring value for money in these contexts are difficult to apply in practice, particularly in a development context where little is constant.
Cost-Utility Analysis (CUA) is one method that is applicable in this context. It is a participatory method of economic analysis that accommodates different (and non-monetarised) outcomes by synthesising the multiple outcomes into a single utility figure which enables comparison. The participatory approach enables differences in value between stakeholder groups to be easily assessed and promotes use of the findings.
This workshop will provide three examples of the application of Cost-Utility Analysis (CUA) in the development context. Two examples are to very different evaluations (one in natural disaster recovery and one in technical health advice) and the third was for an options analysis to design support to improve management of a nation's waste.
Workshop Content
What is Cost Utility Analysis
How Cost Utility Analysis was applied in three situations
Practice in applying a simple Cost Utility Analysis
Strengths and weaknesses Cost Utility Analysis.
Workshop Objectives
At the end of the workshop, participants will:
Understand Cost Utility Analysis and how it differs from other forms of economic analysis.
Be able to identify where Cost Utility Analysis would and would not be appropriate.
Be able to apply Cost Utility Analysis to an evaluation or options analysis
PL competencies
This workshop aligns with competencies in the AES Evaluator's Professional Learning Competency Framework. The identified domains are:
Domain 2 – Evaluation theory
Domain 4 – Research methods and systematic inquiry
Domain 7 – Evaluation Activities
Who should attend?
Evaluators, Commissioners of evaluations.
Workshop start times
About the facilitator
Dr Fiona Kotvojs has 20 years-experience in evaluation and more than 30 years-experience in international development. During this time, she has undertaken over 50 evaluations, including three which applied CUA. Fiona has published numerous papers, including co-authoring one on application of CUA. She has received three awards for research or evaluation she undertook. Fiona is a qualified trainer and has provided training in evaluation in Europe, North America, Asia, the Pacific, and Australia. This includes for university students, consultants, non-government organisations and government agencies.
---