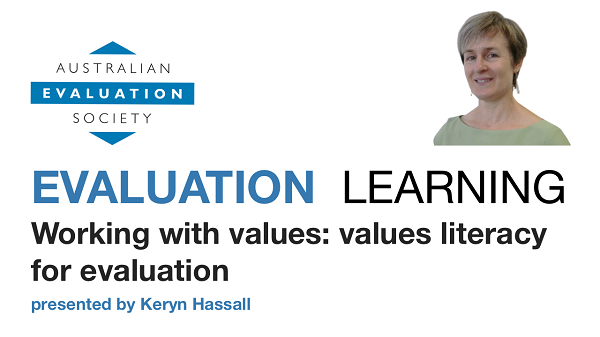 Date and time: Friday 20th August and Friday 27th August 2021, 10.00am to 1.00pm AEST (registration from 9.45am) Registrants are to attend both sessions. (full day workshop - 2 sessions)
Venue: Via Zoom. Details will be emailed to registrants just prior to the workshop start time
Facilitator: Keryn Hassall
Register online by: 17 August 2021. Spaces limited to 25 participants from Australia and NZ and international AES members
Fees (GST inclusive): Members $260, Non-members $425, Student member $125, Student non-member $210*
* Students must send proof of their full-time student status to
Purpose of Workshop
Evaluators are being encouraged to engage with values in evaluation. But there are conceptual and practical challenges to working with values. We have no common language to talk about values and engaging with values is not as simple as learning a new technique. First, evaluators need to develop 'values literacy', then we can develop skills for working with values in evaluation.
This workshop will give evaluators an understanding of values that they can integrate into their existing evaluation practice and provides an approach for engaging with values in evaluation design and practice
Workshop Content
The workshop is designed to provide participants with an understanding of values based on current research in social psychology and philosophy of science. We will explore different kinds of values including the epistemic and professional values we bring to our work, the public values that guide policymaking, and the socio-cultural values that are important to the community. Building on this understanding of values, the workshop provides a four-step approach for explicitly engaging with values in evaluation practice.
The first session covers the elements of 'values literacy' – understanding what values are and learning to recognise values.
What are we talking about when we talk about values? We will unpack the concept of 'values' and consider the different kinds of values we observe in evaluation (personal, social, political, ethical, and epistemic values). Participants will be asked to complete a short exercise before the first session.
Recognising values – looking at 'values-in-use', to understand how values are expressed in people's words and actions, and 'values-in-practice' to consider how values are expressed in policies and programs. Participants will have a short exercise to complete before the second session.
Integrating values into evaluation practice will be the focus of the second session.
Working with values – using the understanding of what values are and how they are expressed in practice, we can draw on the evaluation literature to integrate awareness of values into evaluation practice. This session provides a four-step approach for working with values in evaluation.
Participants will receive a workbook with reference material and activities they can use to develop their engagement with values in their own work.
Workshop Outcomes
This workshop is designed to help participants to:
understand what values are (and are not), drawing on the current understanding of values in social psychology and philosophy
recognise different kinds of values influencing a policy, program and/or an evaluation
consider ways to elicit and discuss values when planning an evaluation, to clarify 'what matters'
understand the different approaches for engaging with values that are available in the evaluation literature
reflect on how values influence their own evaluation work, and how they can more explicitly work with values in their own practice.
PL competencies
This workshop aligns with competencies in the AES Evaluator's Professional Learning Competency Framework. The identified domains are:
Domain 3 – Culture, stakeholders, and context
This workshop aligns with Domain 3, which recognises that evaluators must be aware of and respond to the 'multiplicity of values perspectives' in the context of an evaluation
Who should attend?
This workshop is intended for people with some experience of evaluation (conducting, managing, or commissioning), who want to improve how they recognise, discuss, and engage with values through an evaluation.
Workshop start times
About the facilitator
Keryn Hassall is an experienced evaluator, working across many policy areas. She uses ideas from philosophy, public administration research and organisation theory to inform evaluation practice. Her consultancy work is primarily formative and process evaluation, helping government agencies to clarify program theory, understand the context, improve program design and implementation, and build the craft skills of public administration to support program delivery.
---