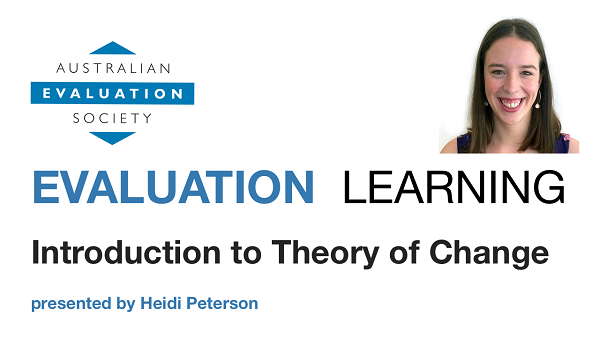 Date and time: Tuesday 31st August 2021, 10.00am to 1.00pm AEST (registration from 9.45am). Half day workshop - 1 session.
Venue: Via Zoom. Details will be emailed to registrants just prior to the workshop start time
Facilitator: Heidi Peterson
Register online by: 26 August 2021. Spaces limited to 25 participants from Australia and NZ and international AES members
Fees (GST inclusive): Members $165, Non-members $315, Student member $95, Student non-member $140*
* Students must send proof of their full-time student status to
Workshop Overview
Theory of Change is increasingly becoming a 'must-have' component of program design, development of a measurement and evaluation framework and clarifying a program prior to evaluation. This workshop introduces the concept of Theory of Change and lays out a step-by-step process for creating a visual Theory of Change model. The workshop particularly focuses on how to do this in a group setting, which is beneficial for gaining the wisdom of stakeholders whilst fostering ownership and shared direction. The workshop includes discussion of how Theory of Change can be used for program design and how it can be used to provide the structure for monitoring and evaluation plans.
Workshop Content
The workshop will commence with an overview of Theory of Change and a hands-on introduction to developing a simple hypothetical model. Following a more detailed overview of the various approaches to Theory of Change development and their relative strengths, participants will be introduced to a structured process for developing a Theory of Change/program logic, using a hypothetical behaviour change project. This section will particularly focus on tips and tricks for engaging stakeholders in the design of a Theory of Change. This workshop will conclude with an exploration of the different ways of visualising theory of change as well how theory of change is used in different settings.
Workshop Objectives
By the end of the workshop, participants will:
Understand the concepts of Theory of Change and the steps involved in creating a model
Understand how to engage key stakeholders in the design of a Theory of Change
Understand how Theory of Change is used in different settings
PL competencies
This workshop aligns with competencies in the AES Evaluator's Professional Learning Competency Framework. The identified domains are:
Domain 2 – Evaluation theory
Domain 4 – Research methods and systematic inquiry
Who should attend?
The workshop is designed for people involved in project planning, project managers and people who work in monitoring and evaluation roles.
Workshop start times
About the facilitator
Heidi Peterson is a Senior Consultant at Clear Horizon. Heidi is an experienced evaluator and facilitator with a focus on participatory and collaborative methods. She has experience through all stages of the program cycle, including developing Theories of Change, evaluation plans and strategy monitoring tools, as well as conducting evaluation and learning activities. Heidi has developed many Theories of Change, most recently for organisations such as WorkWell (part of WorkSafe Victoria), the Vision Initiative, the Centre for Health Analytics and Melbourne Genomics. Heidi is a strong facilitator, enjoying working with diverse stakeholders to develop and undertake evaluation activities. Heidi is currently undertaking a Professional Doctorate in Policy Research and Practice, focusing on innovative and participatory approaches to Value for Money.
---