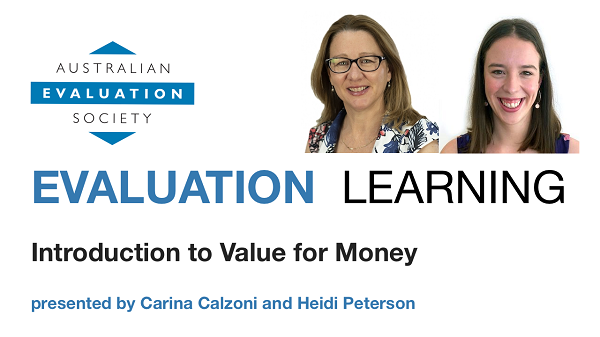 Date and time: Thursday 10th June 2021, 9.30am to 12.30pm AEST (registration from 9.15am). Half day workshop - 1 session.
Venue: Via Zoom. Details will be emailed to registrants just prior to the workshop start time
Facilitator: Carina Calzoni and Heidi Peterson
Register online by: 4 June 2021. Spaces limited to 25 participants from Australia and NZ and international AES members
Fees (GST inclusive): Members $165, Non-members $315, Student member $95, Student non-member $140*
* Students must send proof of their full-time student status to
Workshop Overview
This workshop aims to provide an introduction to Value for Money (VfM) and its uses in evaluation. The purpose of the workshop is for attendees to have a greater understanding of how VfM is used across the program cycle and potential methods that can be used, with a particular focus on a principles-based approach to VfM.
Workshop Content
The workshop will focus on what VfM is and why it is important, as well as where it fits across the different stages of the program cycles. Attendees will gain a high-level understanding of commonly used VfM methods. Attendees will take a deep-dive into how to conduct a principles-based approach to VfM, including working through some interactive and practical exercises.
Workshop Objectives
To understand what VfM is and why it is important
To appreciate how VfM fits in with the different stages of a program cycle
To have a high-level overview of commonly used VfM methods
To understand how to conduct a principles-based approach to VfM
PL competencies
This workshop aligns with competencies in the AES Evaluator's Professional Learning Competency Framework. The identified domains are:
Domain 2 – Evaluation theory
Domain 4 – Research methods and systematic inquiry
Domain 7 – Evaluation Activities
Who should attend?
This workshop is designed for evaluation practitioners, particularly early-career, and other professionals (such as those who commission evaluations) who are interested in an introduction to VfM.
Workshop start times
VIC, NSW, ACT, TAS, QLD: 9.30am
SA, NT: 9.00am
Perth: 7.30am
New Zealand: 11.30am
About the facilitators
Carina Calzoni is the General Manager and a Director of Clear Horizon. Carina has over 15 years of professional monitoring, evaluation and learning experience within government as well as consulting to governments and not-for-profit organisation across a wide range of sectors and levels of complexity. She has an in-depth understanding of public policy and program design and has a deep appreciation for a utilisation-focused approach in this context. She is also an excellent trainer and facilitator and has helped many programs and organisations (government and not for profit) to clarify their outcomes, understand their theory of change, build their monitoring and evaluation frameworks and to understand how to use this data effectively for learning and improvement, including demonstrating Value for Money.
Heidi Peterson is a Senior Consultant at Clear Horizon. Heidi is an experienced evaluator and facilitator with a focus on participatory and collaborative methods. She has experience through all stages of the program cycle, including developing Theories of Change, evaluation plans and strategy monitoring tools, as well as conducting evaluation and learning activities. Heidi is a strong facilitator, enjoying working with diverse stakeholders to develop and undertake evaluation activities. Heidi is currently undertaking a Professional Doctorate in Policy Research and Practice, focusing on innovative and participatory approaches to Value for Money.
---