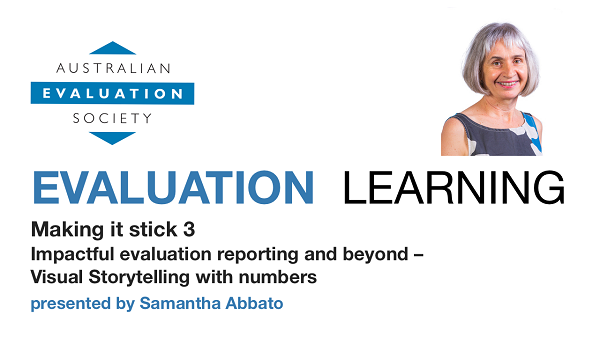 Topic: Making it stick 3 – Impactful evaluation reporting and beyond – Visual Storytelling with numbers
Date and time: Friday 23rd July and Friday 30th July 2021, 9.30am to 1.00pm AEST (registration from 9.15am) Registrants are to attend both sessions. (full day workshop - 2 sessions)
Venue: Via Zoom. Details will be emailed to registrants just prior to the workshop start time
Facilitator: Dr. Samantha Abbato
Register online by: 19 July 2021. Spaces limited to 25 participants from Australia and NZ and international AES members
Fees (GST inclusive): Members $260, Non-members $425, Student member $125, Student non-member $210*
* Students must send proof of their full-time student status to
Workshop Overview
Most evaluation reporting involves the communication of numbers or quantitative data to a varying degree. For many evaluators, stakeholders and potential users of evaluation reports, quantitative data can be difficult to communicate and understand. And ironically, the more quantitative data we have access to for reporting, the harder it becomes to communicate it. Using visuals and story to communicate data makes the information easier to understand and use.
In this workshop we bring a visual storytelling approach to communicating and reporting quantitative evaluation data. It is designed for professionals who need to communicate quantitative or mixed method evaluation findings and want to do so with greater effect in evaluation reports, presentations and online. Workshop participants will be guided through practical activities to identify the stories in their data, choose appropriate and effective visual displays, focus attention and design for maximum engagement and communication.
Workshop Content
The workshop will be interactive, involve the sharing of experiences and hands-on activities. Tools for getting to know and understand your audience (evaluation stakeholders and users), identifying key messages and storytelling tools of Stick 1 and Stick 2 will be reviewed. The building blocks of evaluation data visualisation (graphs) will be introduced through real life examples and case studies. Workshop participants will gain practical experience in choosing visual displays that match their message and in using communication and design principles to adjust the visual for maximum effect. An introduction to data dashboards will provide a pathway for combining visuals into a complete story for evaluation data reporting.
Participants will be provided opportunities to apply new skills to their own work both during and between the workshop Zoom sessions. Participants will be given the opportunity to practice storytelling with data through presentations.
Four main areas will be covered.
Introduction to data visuals and dashboards: An overview of data visualisation platforms and software will be provided. Design principles for the communication of data visuals and ways of combining with qualitative storytelling will be reviewed. Participants will have the opportunity to plan their own dashboard appropriate to evaluation users using their key message and storytelling tools.
Building blocks of data visualisation: Practical examples and case studies of graphs that are useful and graphs to be avoided. Apply a checklist and steps for choosing effective visuals based on the communication purpose, stakeholder and key message.
Building visual power: Easy to apply strategies and tools will guide participants in building the power of their visuals. Using principles of visual perception and practical strategies for increasing focus and decreasing clutter, participants will come away with tools that they can instantly apply to improving data visuals.
Visually communicating the whole data story: Learning to apply storytelling tools will help you in bringing the building blocks together in a complete visual story of your data. The rigour of evidence and what needs to be added to provide a complete picture will be covered.
Workshop Objectives
This workshop is for evaluators and other professionals who would like to:
Increase familiarly with the data visualisation platforms and software for reporting evaluation data;
Identify appropriate graphs or other visual for communicating a quantitative evaluation finding
Improve the effectiveness of your graphs and visuals through good design, visual perception and communication principles
Gain knowledge and skills in telling effective stories of evaluation data with effective visuals
PL competencies
This workshop aligns with competencies in the AES Evaluator's Professional Learning Competency Framework. The identified domains are:
Domain 1 – Evaluative attitude and professional practice
Domain 3 – Culture, stakeholders and context
Domain 4 – Research methods and systematic inquiry
Domain 5 – Project management
Domain 6 – Interpersonal skills
Domain 7 – Evaluation activities
Who should attend?
This workshop is designed for professionals who need to communicate evaluation data. It is an ideal follow-on workshop for people who have completed "Making it Stick 1 – Crafting an Evaluation Report for Impact and Use" and companion to "Making it Stick 2-– Impactful evaluation reporting and beyond - Pictures and stories". It is however, not essential that participants have attended Stick 1 or Stick 2.
It will particularly benefit evaluators and other professionals at an intermediate level of quantitative evaluation report crafting.
Workshop start times
About the facilitator
Dr Samantha Abbato is the director of a transdisciplinary consortium of professionals which includes: a videographer, a graphic designer, a systems-thinker and a virtual reality practitioner. Over the past 5 years the facilitator has successfully experimented across these other disciplines to un-box evaluation reporting. She has had considerable experience in crafting evaluation reports using these multi-disciplinary tools across several sectors. She regularly facilitates workshops for AES professional development and for community and health sector clients including in mixed-methods (AES 2019), report crafting (AES 2017,2018, 2020) and systems thinking for evaluation (Melbourne AES 2015).
With a passion for communication, maximising evaluation use, and a transdisciplinary approach to evaluation, the facilitator is able to offer a wealth of case studies of unboxing and increasing the impact of evaluation reporting using data visualisation and story. She has extensive training and experience in quantitative data methods including a Masters degree in Epidemiology/Biostatistics, a PhD in Epidemiology, and numerous publications of data based research and evaluation projects. Her most recent evaluation work includes evaluation and M&E reporting using systems thinking, videography, graphic communication, design-thinking and virtual reality. In addition, the facilitator has completed more than 100 evaluation and research reports and papers for a range of government, non-government organisations and community stakeholders including several peer-reviewed publications in 2018 incorporating transdisciplinary approaches.
---