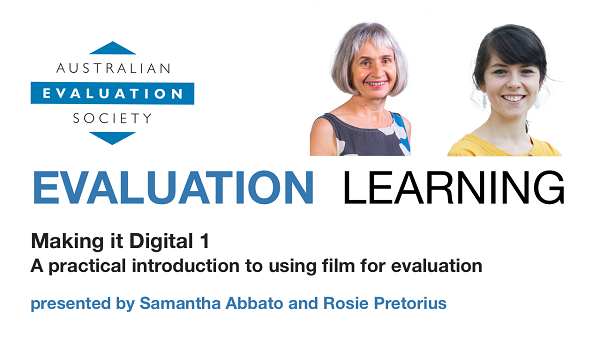 Topic: Making it Digital 1 – A practical introduction to using film for evaluation reporting
Date and time: Thursday 27th May and Thursday 3rd June 2021, 9.30am to 1.00pm AEST (registration from 9.15am) Registrants are to attend both sessions. (full day workshop - 2 sessions)
Venue: Via Zoom. Details will be emailed to registrants just prior to the workshop start time
Facilitator: Dr. Samantha Abbato with Rosie Pretorius
Register online by: 24 May 2021. Spaces limited to 25 participants from Australia and NZ and international AES members
Fees (GST inclusive): Members $260, Non-members $425, Student member $125, Student non-member $210*
* Students must send proof of their full-time student status to
Workshop Overview
Effective evaluation reporting is more critical now than ever. Technological advances in digital communication methods that are now part of our everyday life offer an opportunity to increase the impact of evaluation. Reporting evaluation findings visually using film is a largely untapped opportunity.
In this workshop we provide a practical introduction to the use of film for evaluation reporting. It is designed for professionals who need to communicate evaluation findings and want to do so with greater effect. Workshop participants will be literally looking "through the lens" in the practical activities of this digital reporting workshop and seeing evaluation and reporting in a new light by doing so.
Workshop Content
Participants will have the opportunity to plan a short evaluation film starting with script writing and storyboarding. They will be guided in establishing their own digital kit starting with equipment they already have at their fingertips (e.g. iPad, mobile phone). Practice in the technical and personal aspects of digital interviewing and sharing this experience with the group will maximise practical learnings and workshop take-aways.
The workshop will be interactive, involve the sharing of experiences and hands-on activities. Case studies from the experience of the presenter as part of a multidisciplinary team including: videography, graphic design, virtual reality will be discussed.
Participants are encouraged to apply these skills to their own work both during and between the workshop Zoom sessions. As a bonus, skills gained in planning visual content will improve the written reporting and presentation.
Planning a film and developing a script: Steps to film planning will be outlined and a checklist provided. Based on communication principles including clarifying purpose, message and stakeholders, participants will gain skills in effectively converting 'written' word to 'spoken' script.
Developing a pre-production storyboard: The components, terminology and key strategies of pre-production film storyboard are covered. Participants are guided in transferring the draft film report script into a pre-production storyboard for sharing with stakeholders using digital templates.
Technical aspects of film and digital interviewing: Participants are guided in establishing their own digital kit and digital data management strategies. Technical essentials for effective filming will be demonstrated through real life case studies, practiced with the aid of checklists, and presented for feedback and improvement of technical skills.
Personal aspects of digital interviewing: A successful digital interview for use in reporting is dependent as much on how you relate to, support and interact with the participant as it is on technical skills of filming. Workshop participants are provided with case studies and a checklist for conducting a digital interview that explores personal aspects of the digital process. Demonstrations, practice and group reflections within the workshop will consolidate learnings and fast-track digital interview skill building.
Workshop Objectives
This workshop is for evaluators and other professionals who would like to:
Use technological advances in digital to incorporate film in their evaluation reporting;
Plan a digital evaluation report;
Improve both spoken and written communication using script writing strategies;
Gain skills in storyboarding for film and transfer these to improving PowerPoint Presentations and written reports;
Improve the technical quality of their filming;
Increase their skills in both the technical and personal aspects of digital interviewing;
PL competencies
This workshop aligns with competencies in the AES Evaluator's Professional Learning Competency Framework. The identified domains are:
Domain 1 – Evaluative attitude and professional practice
Domain 3 – Culture, stakeholders and context
Domain 5 – Project management
Domain 6 – Interpersonal skills
Domain 7 – Evaluation activities
Who should attend?
This workshop is designed for professionals who commission, craft or use evaluation reports. It is designed for those who want to advance beyond the written report and add film reporting to their toolkit. It is also ideal for evaluators and other professionals who want to improve their written reporting using 'out of the evaluation box' tools of videography and film.
Workshop start times
About the facilitators
Dr Samantha Abbato is the director of a transdisciplinary consortium of professionals which includes: a videographer, a graphic designer, a systems-thinker and a virtual reality practitioner. Over the past 5 years the facilitator has successfully experimented across these other disciplines to un-box evaluation reporting. She has had considerable experience in crafting evaluation reports using these multi-disciplinary tools across several sectors. She regularly facilitates workshops for AES professional development and for community and health sector clients including in report crafting (AES 2017,2018, 2020) and systems thinking for evaluation (Melbourne AES 2015).
With a passion for communication, maximising evaluation use, and a transdisciplinary approach to evaluation, the facilitator is able to offer a wealth of case studies of unboxing and increasing the impact of evaluation reporting using transdisciplinary approaches. Her most recent evaluation work includes evaluation and M&E reporting using systems thinking, videography, graphic communication, design-thinking and virtual reality. In addition, the facilitator has completed more than 100 evaluation and research reports and papers for a range of government, non-government organisations and community stakeholders including several peer-reviewed publications in 2018 incorporating transdisciplinary approaches.
Rosie Pretorius has extensive experience in and a passion for using digital storytelling through client-centred processes for evaluation. She has a Bachelor of Human Services and Creative Industries majoring in film (QUT, 2018). Rosie has several years of experience producing and editing film content in the community and disability sectors including evaluation story development of women with intellectual disability. She is committed to a flexible but ethical approach to the use of film in storytelling and evaluation. Rosie has a rare ability to coach those new to the use of film in evaluation in a way that makes the complicated easy, and is enabling, empowering and fun for the participant.
---