ONE WEEK UNTIL CALL FOR CONFERENCE WORKSHOP PROPOSALS CLOSES

The aes19 International Evaluation Conference will be held from 16-18 September 2019 at the International Convention Centre Sydney.
Conference workshops will be held on Sunday 15 September and Thursday 19 September.
The call for conference workshop proposals will close Monday 18 February 2019 - that's just one week away!
If you are thinking of submitting workshop proposal don't delay! Click here to submit.
---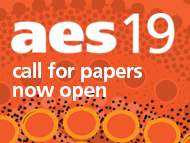 Proposal submission deadlines

Conference workshop proposals: Monday 18 February 2019
Conference presentation proposals: Thursday 7 March 2019
Ignite presentations: Thursday 7 March 2019
Conference presenters will be notified of acceptance during May 2019.
---
Interested in reviewing conference proposals or ignite presentations?
Expressions of interest close Thursday 7 March 2019.
We are seeking your assistance to review the conference proposals. The call for conference proposals closes on 7 March 2019. If you volunteer, you will need to review the proposals between late March and early April 2019.
This year's conference proposals review will be a double-blind review. This means that author identities are concealed from the reviewers, and vice versa, throughout the review process. The review process is fully automated and anonymous. You will be provided with instructions to guide your review when using the online assessment tool. Reviewers' names will be published in the conference abstract book.
If you are interested, please register here.
You have received this email because you are a member of AES or you are subscribed to AES news. You can unsubscribe at any time.