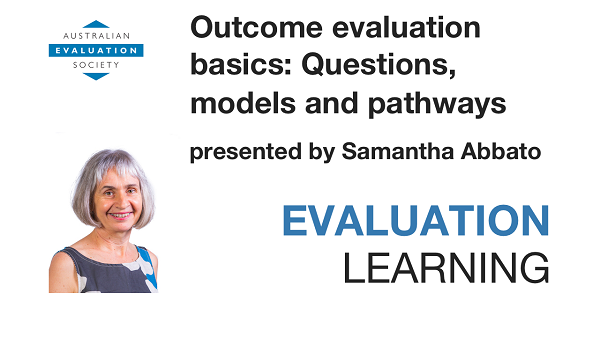 Date and time: 1 day workshop over two sessions: Wednesday 12th August AND Wednesday 19th August 2020, 9.30am to 12.30pm AEST (registration from 9.15am) Registrants are to attend both sessions.
Venue: Via Zoom. Details will be emailed to registrants just prior to the workshop start time
Facilitator: Dr. Samantha Abbato
Register online by: 7 August 2020. Spaces limited to 25 participants from Australia and NZ and international AES members.
Fees (GST inclusive): Members $260, Non-members $425, Student member $125, Student non-member $210
Workshop Overview
Many professionals acknowledge the value that outcomes evaluation has in evidencing the difference programs and projects are making and providing important information for improvement. However, a major block to evaluating outcomes of programs and projects is understanding the language, knowing the steps and where to start. In this workshop we support participants through the initial steps of outcome evaluation without the jargon. The purpose is to provide participants with a grounding in the foundations of evaluation including identifying evaluation purpose and questions, mapping and understanding stakeholders and building a program model. In addition to skills in the practical foundations of outcomes evaluation, participants are guided on an evaluation pathway to through do-able steps for their own programs.
Throughout the workshop, participants have the opportunity to be supported in working on their own program evaluation plans through the completion of activity templates, tailored feedback and assistance, presentations, and group discussions.
Workshop Content
Participants will learn the basics of planning outcome evaluation through four main topics:
Finding the why: Using story, participants will uncover and articulate their "why" for themselves, their team and their program using on Simon Sinek's Golden Circle (What, How, Why). This will assist them in identifying long term goals and outcomes and to separate what they do from the difference they make.
Building an evaluation model: Theory of change and program logic will be introduced and participants assisted in the practicals of building these key evaluation models based on activities and outcomes. Software for communicating and sharing evaluation models will be introduced.
Identifying users and use: Based on the principles of Utlisation-Focused Evaluation (Patton ), participants will be provided templates and practical activities for identifying and communicating with program stakeholders. These practical activities will serve participants in ensuring their evaluation models and questions fit evaluation users and use.
Continued pathway to evaluation: Participants are guided in the practicals of planning an outcomes evaluation, including refining evaluation models, communicating with stakeholders, choosing outcomes and articulating evaluation questions.
Workshop Objectives
Workshop learning outcomes include:
Ability to articulate their program "why" through story
Understanding of the role of evaluation models including theory of change (TOC) and program logic (PL)
Ability to develop a TOC and PL and knowledge of how to model in computer software
Identifying and understanding the needs of evaluation users and incorporate this in evaluation planning
Understanding how to identify priority outcomes and the next steps in evaluation.
PL competencies
This workshop aligns with competencies in the AES Evaluator's Professional Learning Competency Framework. The identified domains are:
Domain 1 – Evaluative attitude and professional practice
Domain 2 – Evaluation theory
Domain 3 – Culture, stakeholders and context
Domain 6 – Interpersonal skills
Domain 7 – Evaluation Activities
Who should attend?
This workshop is designed for professionals who want to gain applied skills in outcome evaluation modelling and planning. It is appropriate for those who are new to evaluation.
About the facilitator
Dr Samantha Abbato is an experienced evaluator and trainer for the Australasian Evaluation Society (AES). Samantha Abbato is a senior evaluation consultant with more than twenty years of experience and strong methodological expertise across a range of qualitative and quantitative disciplines. Her academic grounding in quantitative methods is built upon a bachelor's degree in mathematics and physiology and a Masters of Public Health in epidemiology and biostatistics. She has extensive qualitative training in medical anthropology (PhD, UC Berkeley).
Sam employs a utilisation-focused approach to evaluation practice and consistently uses mixed methods, case study and collaborative processes that consistently incorporate skills transfer to clients. As an independent consultant, Sam has assisted a diverse range of clients including non-government organisations and local, state and Commonwealth government.
As the director of Visual Insights People since 2013, she has introduced a pictures and stories approach to evaluation for health and community services. Sam is the recipient of evaluation awards including the AES 2015 award for best evaluation publication.
---