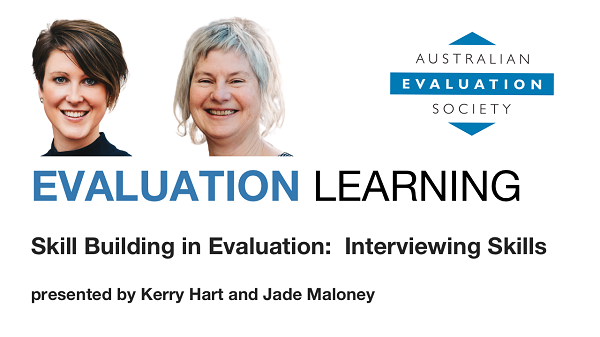 Date and time: Thursday 30th July AND Thursday 6th August 2020, 9.00am to 10.30am AEST (registration from 8.45am) Registrants are to attend both sessions.
Venue: Via Zoom. Details will be emailed to registrants just prior to the workshop start time
Facilitators: Jade Maloney and Kerry Hart
Register online by: 24 July 2020. Spaces limited to 24 participants from Australia and NZ and international AES members
Fees (GST inclusive): Members $165, Non-members $315, Student member $95*, Student non-member $140*
* Students must send proof of their full-time student status to This email address is being protected from spambots. You need JavaScript enabled to view it.
Workshop Overview
While we can all hold up a conversation, interviewing is an art. It involves carefully crafting your questions and choosing the right mode – or, in the context of social distancing, finding the most appropriate alternative to face-to-face. This applied workshop is a practical forum for you to learn the fundamentals of good interview design and practice across different interview modes (online and offline), apply them to your own project and get real time feedback. Starting from what it is you want to know, the two-part workshop will take you through designing questions to help answer evaluation questions, preparing for an interview, honing your interviewing competencies and planning for analysis.
Workshop Objectives
The learning objectives are for participants to:
Understand different interview structures and when they are appropriate
Understand how to develop good interview questions
Be able to appropriately prepare for an interview
Understand the skills and competencies required for interviewing and how to assess against these
Put the skills and competencies into practice
Have increased confidence to undertake interviews
Prepare for important post-interview tasks
Apply learnings to your own project
PL competencies
This workshop aligns with competencies in the AES Evaluator's Professional Learning Competency Framework. The identified domains are
Domain 4 – Research methods and systematic inquiry
Who should attend
This workshop is for people who need to collect qualitative data from clients of stakeholders as part of their professional practice. It is geared to people with limited prior experience conducting interviews.
Workshop start times
Victoria, NSW, ACT, QLD, TAS: 9.00am
SA, NT: 8.30am
Perth: 7.00am
New Zealand: 11.00am
About the facilitators
Jade is an accomplished evaluator with extensive experience collecting qualitative data. Before joining ARTD Consultants over a decade ago, she studied journalism and worked in careers publishing – learning the art of asking a good question. Since then, Jade has conducted more interviews, focus groups and workshops than she can count – engaging service users, frontline staff and senior executives in evaluation. Jade brings a strong understanding of working with people with disability and lived experience of mental ill health to collect meaningful data.
Kerry is a highly experienced qualitative researcher. She uses her specialist skills in face-to-face and telephone interviewing and small group processes to collect meaningful data to answer key research and evaluation questions. Kerry has the ability to understand and adapt to different environments, conducting interviews right across Australia, including in regional centres and remote towns. Kerry has interviewed a range of stakeholders, including managers of service delivery organisations, government and non-government, and clients of government programs; and from children to seniors, and consulted extensively with stakeholders from culturally and linguistically diverse and Aboriginal communities.
---