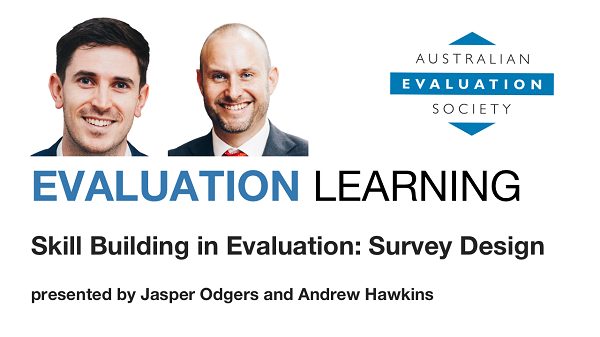 Date and time: Wednesday 29th July AND Wednesday 5th August 2020, 9.00am to 10.30am AEST (registration from 8.45am) Registrants are to attend both sessions.
Venue: Via Zoom. Details will be emailed to registrants just prior to the workshop start time
Facilitators: Jasper Odgers and Andrew Hawkins
Register online by: 23 July 2020. Spaces limited to 24 participants from Australia and NZ and international AES members
Fees (GST inclusive): Members $165, Non-members $315, Student member $95*, Student non-member $140*
* Students must send proof of their full-time student status to This email address is being protected from spambots. You need JavaScript enabled to view it.
Workshop Overview
It seems like everyone is using surveys these days, but not all surveys are created equal. If you are going to achieve a good response rate and collect meaningful data, you need to start with good design. This applied workshop is a practical forum for you to learn the fundamentals of good survey design, apply them to your own project and get real time feedback. Starting from what it is you want to know, the two-part workshop will take you through the process of designing a survey with reporting needs in mind, selecting scales, constructing questions and distribution strategies.
Workshop Objectives
The learning objectives are for participants to:
Understand when to use different methods
Identify appropriate survey methods for your project
Understand approaches to sampling and their strengths and weaknesses
Understand how to design a survey to enable effective analysis
Have a basic understanding of reliability and validity
Understand different types of scales and design appropriate scales
Identify and avoid common question design errors
Identify appropriate survey distribution strategies
Apply learnings to your own project
PL competencies
This workshop aligns with competencies in the AES Evaluator's Professional Learning Competency Framework. The identified domains are
Domain 4 – Research methods and systematic inquiry
Who should attend
This workshop is for people who need to collect standardised satisfaction and outcomes data from clients or stakeholders as part of their professional practice but have not had previous experience designing questionnaires. It is also suitable for funders of evaluation and research to understand good practice.
Workshop start times
Victoria, NSW, ACT, QLD, TAS: 9.00am
SA, NT: 8.30am
Perth: 7.00am
New Zealand: 11.00am
About the facilitators
Andrew is a Partner at ARTD Consultants. Andrew has qualifications in psychology (psychometrics) and administrative law and is an adjunct research fellow of Charles Darwin University. Andrew has been designing and analysing survey data for over 20 years. The focus of his survey work has expanded from analysis of the reliability and validity of survey data using statistical analysis, to pragmatic ways of generating higher survey response rates. Andrew has worked on hundreds of projects involving surveys and has been commissioned to prepare reports and provide advice on contemporary survey design by government departments. Survey design was Andrew's first professional love, eclipsed only by a deeper and broader love of evaluation.
Jasper has been studying and working in quantitative research and data analysis for the past eight years. He manages online surveys, quantitative data analysis and data visualisation for all of ARTD's reporting. He has recently managed several stakeholder surveys for NSW and Commonwealth departments, which involved complex survey coding, strategies to increase response rates, and factor analysis.
---