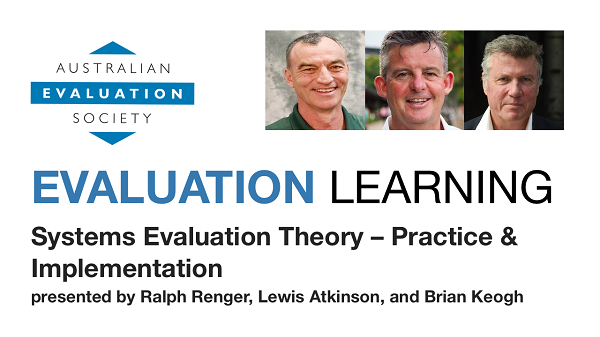 Date and time: Wednesday 17th November AND Wednesday 24th November 2021, 10.00am to 1.00pm AEDT (registration from 9.45am). Registrants are to attend both sessions. (full day workshop - 2 sessions)
Venue: Via Zoom. Details will be emailed to registrants just prior to the workshop start time
Facilitator: Ralph Renger, Lewê Atkinson and Brian Keogh
Register online by: 12 November 2021. Spaces limited to 25 participants
Fees (GST inclusive): Members $260, Non-members $425, Student member $125, Student non-member $210*
* Students must send proof of their full-time student status to aes@aes.asn.au
Workshop Overview
The practical application of systems thinking in a structured evaluation framework.
Workshop Content
Using contemporary COVID19 case study scenarios we will be facilitating participants in the following key principles of the methodology.
Phase A: Defining the system – working through purpose, boundaries, elements and connectedness,
Phase B: Evaluating system efficiency – identifying and assessing feedback loops, cascading failures, systems waste and reflex arcs,
Phase C: Evaluating system effectiveness – understanding interdependence and wholism,
Phase D: Exploring and validating systems attributes as lever for system change – culture, leadership, IT systems and training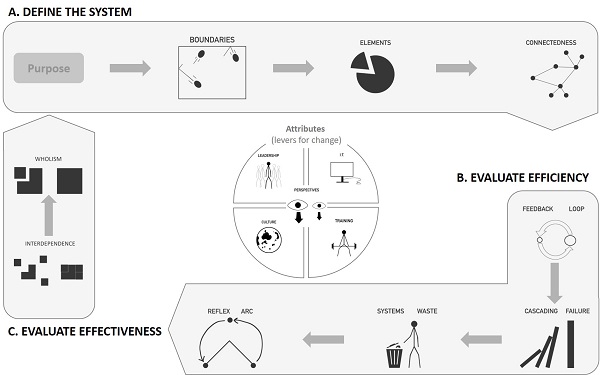 The workshop will include breakout sessions demonstrating application of SET for systems diagnosis and framing recommendations for system improvements in efficiency & effectiveness. MURAL will be used during breakout room sessions.
There will be some pre-work materials required to be completed by participants in order to enhance the workshop experience. There will also be an opportunity to apply the learnings to their own work/project context.
Workshop Outcomes
Understand what it means to think in terms of systems
Understand when a systems approach is appropriate
Understand how to use these systems principles to complete a diagnostic analysis of efficiency and effectiveness of any system
PL competencies
This workshop aligns with competencies in the AES Evaluator's Professional Learning Competency Framework. The identified domains are
Domain 2 – Evaluation theory
Domain 3 – Culture, stakeholders and context
Domain 4 – Research methods and systematic inquiry
Domain 6 – Interpersonal skills
Domain 7 – Evaluation Activities
Who should attend?
Anyone facing the challenges of achieving efficient and effective collaboration and coordination of any system.
People who want to move their evaluation practice beyond the limitations of program logic.
Workshop start times
About the facilitators
For the last decade Dr Renger has been a Professor of Public Health in the Schools of Medicine at the University of Arizona and the University of North Dakota. He has spent over twenty-five years being responsible for evaluating local, state, national and international programs. These evaluations have covered a broad range of interventions. These evaluations have included:
Mining injuries prevention programs in Zambia
Deforestation alleviation programs in Brazil
Seasonal affect disorder programs in Alaska
Children's social skills programs in Germany
Dr Renger has also carried out innumerable evaluations across the US and Canada. Dr Renger has published over 70 research articles in peer reviewed journals around the world. His experience in the field has made him aware and frustrated with the limitations surrounding the foundations to evaluation being established through program logics.
In 2014, he developed Systems Evaluation Theory. Since his first article on SET, he has collaborated and developed his theory with evaluation practitioners across the globe.
For this workshop, he will be supported by Brian Keogh & Dr Lewe Atkinson, two Australian collaborators with Dr Renger in the development of SET.
---